What is included when studying Freight Logistics?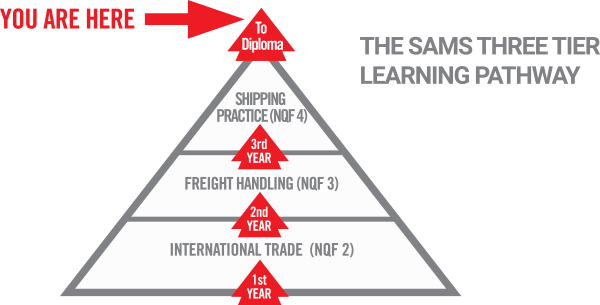 National Diploma: Freight Logistics
Full time: Accredited by TETA, SAQA ID 58473 NQF 05
The diploma programme caters for those already working full time within the maritime industry or those that have completed the relevant NQF level 04 qualifications in the maritime industry. This qualification is benchmarked against international standards. Learning is carried out over 2 years on a part time basis (Saturdays only). Learners have the option of completing the whole programme or sections which are pertinent to their jobs, thereby completing the program over a longer period.
Modules:
Core:
• OHASA Act
• Schedule transport
• Generic business process and value chain model
• Contract documentation
• Financial analysis
• Fundamental concepts and principles of supply chain management
• Risk management control systems
• Logistics plan
• Principles of business - role of IT
• Manage diverse work force
• Identify and interpret related legislation
• Institute disciplinary action
• Manage freight location and control
• Fundamentals
• Communications within a business environment
• Apply concepts and principles of business ethics
Electives:
• Identify and measure productivity factors
• Ship design and cargo operations
• Container control operations
• Maritime liner trades
Admission requirements
• Appropriate NQF level 04 qualification
• Permanently employed in maritime industry – minimum 4 years