What is included when studying Freight Handling?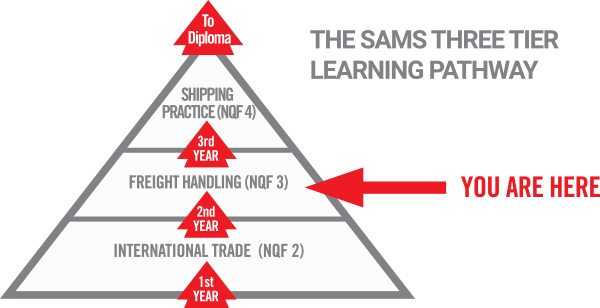 National Certificate: Freight Handling
Full time (1 year): Accredited by TETA, SAQA ID 57831 NQF 03
To ensure goods are always delivered on time to the correct location, an efficient supply chain must to be maintained. Competent management and well trained support staff are needed in the South African shipping and retail industries. This programme will enable the learner to effectively operate within the freight handling environment.
Modules:
Core:
• Freight logistic principles
• Maintaining occupational health and safety
• Manage self-development
• Customer satisfaction and competitive practice
• Business principles
• HIV/AIDS protocol in the workplace
• Managing administration records
• Processing and controlling freight documentation
• Care of freight handling machinery
• Math literacy
• Communications
• Basic Computers (Microsoft Word and Excel)
Electives:
• Allocating freight for packing and grouping
• Packing, handling and securing freight
• Controlling and locating stock
• Receiving and dispatching freight
• Fork Lift – Licensing (2.5T – 3.5T category)
• Matric Certificate NQF 03
• Math / math Literacy
• Science
Admission requirements
• Matric certificate
• Math Literacy – pass NQF 02
• Communications – pass NQF 02
• Business Economics, Economics and Accounting an advantage