What is included when studying Shipping Practice?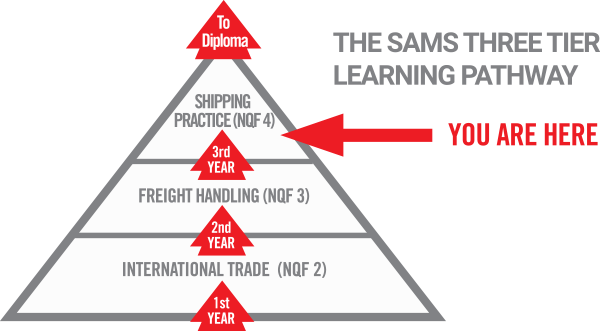 Full time: Accredited by SAQA ID 49155 NQF 04
The program prepares learners who will be involved in shipping operations, practically or in the office environment, giving learners the knowledge, skills and practical competency to manage logistics in an enterprise, in an integrated manner. Learners must complete either one of two electives,. ie. Managing Liner Trades or Occupational Health and Safety. A part time program designed to build a solid Foundation in the ships agency field, providing learners with the conceptual framework to conduct routine and non-routine shipping functions, and is a sound base for further maritime studies.
Modules:
Core:
• GUI – Spread sheet Application
• GUI – Word processor (merging documents)
• Budgets – small business
• Interpret financial statements
• Project team member
• Local and international trade
• Maritime geography
• Ship design and cargo operations
• Legal principles applied to shipping
• Marine insurance
• Fundamentals
• Communications
• Maths Literacy
Electives:
• Occupational health and safety
• Processing, controlling and documentation
• Maritime liner trades
Admission requirements
• Matric
• Math / Math Literacy – pass NQF 03
• Geography – pass