What is included when studying International Trade?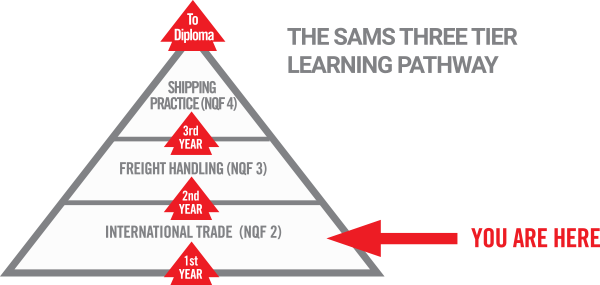 National Certificate: International Trade
Full time (1 year): Accredited by TETA, SAQA ID 59326 NQF 02
Short Course : SAQA ID 117668
This qualification is the starting point for a maritime career, and orientates learners with the working world of global trade, focussing on international logistics and supply chain management. Learners will be taught to apply their knowledge through real situations and practical work-place application. Successful completion opens a pathway to a full range of skills and qualifications relating to International Trade, Freight Forwarding, Customs Compliance, Logistics and Supply Chain Management. Learners with this qualification may advance to NQF Level 3, 4 and 5 qualifications.
Modules:
Core:
• Transport principles in international trade
• Business and workplace ethics
• Cargo care
• Geographical principles
• Customer service
• Freight forwarding
• Marine insurance
• Security and confidentiality
• Importing and exporting
• Documenting and transporting dangerous goods
• Transport principles in international trade
• Business operations management
• Time Management and work process
Fundamentals:
• Communications
• Math literacy
Electives:
• Occupational health & safety
• Hand perishable cargo
• Road transport of dangerous goods
• General freight loading
Admission requirements
• Grade 12
• Math Literacy
• Geography
• Accounting