FREIGHT FORWARDING & CUSTOMS COMPLIANCE
What is included when studying Freight Forwarding & Customs Compliance?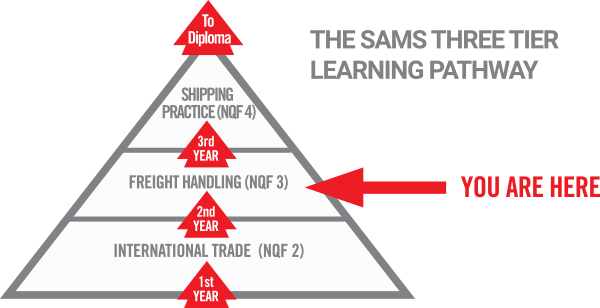 National Certificate: Freight Forwarding & Customs Compliance
Full time (1 year): Accredited by TETA, SAQA ID 59365 NQF 03
On successful completion the learner will be equipped to conduct the required procedures for the import and export of international trade, and able to use geographic and logistic concepts effectively for their daily duties. Studies can then be continued to specialize in international logistics and supply chain management. Full time learners on the Customs `Compliance and Freight Forwarding program, will complete Freight Handling during week day lectures and custom electives on Saturdays.
Modules:
Core:
• Incoterms
Electives:
• Calculate customs values
• Calculate duties on tax payable on internationally traded goods
• Classify commodities according to custom tariff
• Frame and submit customs declarations and carrier release documentations
Admission requirements
• Math Literacy – pass NQF 02
• Communications – pass NQF 02
• Business Economics, Economics and Accounting an advantage